Special Offers
---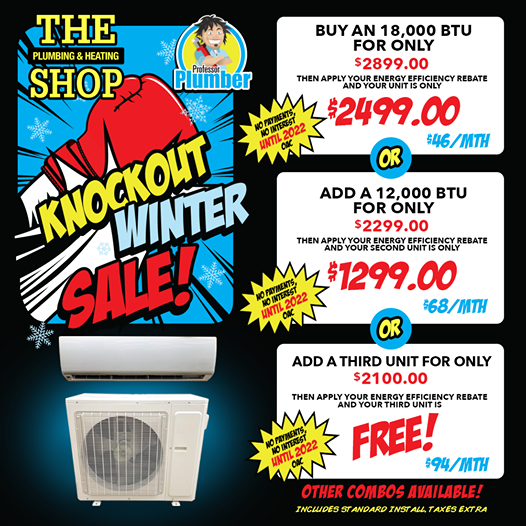 PROFESSOR PLUMBER'S KNOCKOUT WINTER SALE IS ON NOW!


AND YOU DON'T PAY UNTIL 2022!
That's 9 months of NO interest, no payments, OAC
You SAVE $400 on the first unit, $1000 on 2 units and $2100 on 3 units with the NB Power Rebate Program!
So, you can Finance and get your heat pump now, not pay for anything for 9 months, and have your rebate money from NB Power to either put on the loan or enjoy it during these unprecedented times!
Check out our incredible prices for the best ACD Commodore 23 heat pump rated at -30C ambient temperature (wind chill does not affect these units)
Nobody comes close to THE SHOP pricing on LG, TRANE, LENNOX, KEEPRITE, KARDA, AIR TEMPO and the top of the line ACD Willis series ductless heat pumps ... NOBODY.
We include the BEST warranty available on the market! A TRUE 10 year warranty on ALL parts, ALL labour INCLUDING service calls, diagnostics and travel with ZERO Deductible for only $299 on the first unit and $99 each for the remaining units saving another $200 per combo unit!
We are located next to the Superstores on Smythe Street, Fredericton (506) 472-6030 or Onondaga Street, Oromocto (506) 446-6030.
*INSTALLED means a regular installation; where the inside unit is mounted directly on an outside wall with the compressor straight down, single story. Prices are for local homes only as travel charges are applicable for out of town customers.
**Approximate minimum payment, open loan with no penalties to pay it off at anytime, includes 9 months of no interest, no payment OAC.
---
---
Fredericton
Showroom Hours

Monday:

10:00 am - 5:00 pm

Tuesday:

10:00 am - 5:00 pm

Wednesday:

10:00 am - 5:00 pm

Thursday:

10:00 am - 5:00 pm

Friday:

10:00 am - 5:00 pm

Saturday:

CLOSED

Sunday:

CLOSED span>
Oromocto
Showroom Hours

Monday:

8:00 am - 5:00 pm

Tuesday:

8:00 am - 5:00 pm

Wednesday:

8:00 am - 5:00 pm

Thursday:

8:00 am - 5:00 pm

Friday:

8:00 am - 5:00 pm

Saturday:

CLOSED

Sunday:

CLOSED span>
© 2020 THE Plumbing & Heating SHOP
Website Design & Hosting: